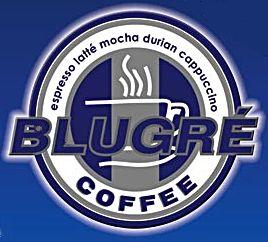 With a lot of new and foreign coffee shops surrounding the city, Blugre Coffee is still considered the

KING OF COFFEE SHOPS

. Blugre is Davao's first and leading specialty coffee shop, founded in 1998 by husband and wife, Gatchi and Larcy Gatchalian. Their first franchisee is the People's Champ, Manny Pacquiao together with his wife, Jinkee Pacquiao.

Blugre's signature drink is the

Durian Gatchpuccino

, a hot cappuccino with a blend of espresso and durian fruit named after the owner

Gatchi

, and the

Durian Larcepuccino

,

a coffee concoction named after Gatchi's wife,

Larcy.

Aside from their famous drinks, Blugre also offers delicious desserts at affordable prices. My personal favorite is the Cheese Roll Bites! It is perfect to be paired with a hot coffee or a hot tea.

They are the first coffee shop who offers Durian Coffee. It is one of those things that makes us proud especially with people and friends we know from Manila who come here looking and wanting to try their popular Durian coffee.


Blugre is now under a new management which they took over January 9th of 2012 and in only a year after the turnover, the brand has already added six branches all over Mindanao. On top of that, two more branches have opened this month,

Blugre Tagum City

(Apokon Road, Tagum) last February 22, and at

Blugre Davao Doctor's College

last February 28, respectively. The Davao Doctor's College branch will mostly likely be their 1st 24/7 coffee shop that will cater to

customers from the hospital and students from DDC among other customers.

Aside from this newly opened branches, they are still planning to expand the brand by putting up 20 new stores this year nationwide.

Blugre is also making their coffee shops child-friendly putting up small tables for the kids that come along with the family.

This year, the local brand is going global! Blugre aims to bring the brand to the global market by putting up a branch in Las Vegas, Nevada and Los Angeles, Califonria and Australia by the end of the 2013. Other global expansion includes Singapore, Bangkok, Kuala Lumpur, But of course, the brand will also put up more stores across the Philippine Islands. With their continuous expansion, the brand will also be offering new drinks and desserts that would showcase the flavors of Davao-The King of Fruit-Our very own Durian.
"Our vision is beyond building an enormous conglomerate. We see Blugre Coffee as an avenue where people and experiences can converge to give life a deeper meaning across all the people involved in our company; the stakeholders, the employees and most importantly the customers. And we positively impact the world by celebrating life in every cup of coffee."
"We are not just a cup of coffee; we are a global brand, a lifestyle and a brand that gives back"
Speaking of giving back, as what Mr. Benjamin M. Cuaresma said, Vice President for Franchise of Blugre Coffee, their way of giving back to the community as well to the world, is their active participation in the carbon neutral program. They are working with DENR in planting trees that will help building a greener environment. They also support B'laan tribes build additional schools and support their coffee livelihood.
Now that they are under the new management, they have new offerings. They are now offering breakfast and different packages that is
ideal for meetings, birthdays & barkada hang-outs.
BLUGRE BREAKFAST CHOICES
BLUGRE LONGANISA SCRAMBLER
BLUGRE HUNGARIAN SAUSAGE SCRAMBLER
BLUGRE BARKADA PACKAGES

Package #1

P2,000 with P100 GC
5 Cafe Mocha, 5 Ice Blended Mocha, 3 Cheese Roll Bites, 2 Potato Chips and 3 Slices of Choco Torte

Package #2

P4,000 with P200 GC:
5 Cappucino, 5 Cafe Mocha, 5 Brewed Coffee or House Blend Iced Tea, 5 Durian Cappucino
3 Tuna Cheese Melt, 3 Sausage Pepper Penne, 3 Choco Torte, 3 Potato Chips


Package #3

P6,000 with P500 GC
10 Cappucino, 10 Brewed Coffee or House Blend Iced Tea, 10 Iced Blended Durian
4 Penne Tuna Pesto Cream, 5 Ham & Cheese, 5 Cheese Roll Bites, 5 Choco Torte




For more updates about what's new with Blugre, check out their
website
and
like their new official
Facebook page
!
Visit Blugre now and have a taste of a perfect coffee!
Ciao!
X